Issue #68 / Jul 2006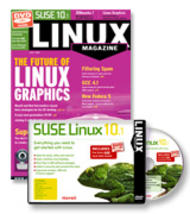 DVD: Suse Linux 10.1
Community Notes
This month, I want to take a look at some of the informal communities that exist all around us. I'm not talking abo......
An up-to-date look at free software and its makers
Hundreds of thousands of registered users have chosen their favorite Sourceforge projects in 14 categories. Also in this issue: Linux electrified, and Freenet's plans for freedom of speech on the web. We'll also round up the latest Debian news.
Visit Our Shop
Direct Download
Tag Cloud