Issue #69 / Aug 2006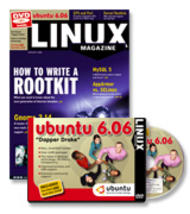 DVD: Ubuntu 6.06 'Dapper Drake'
Dear Linux Magazine Reader, Google has become a ubiquitous part of daily life – at least in my house. Of course, pe......
OPEN MOVIE DISKLESS CLIENTS FOR UBUNTU WEBSITES FOR THE WOMEN'S MOVEMENT...
Kernel 2.6 rootkits and the quest for Linux security
Your Linux system may not be so airtight after all. To understand the threats, you need to think like an intruder. We'll show you what the intruders are thinking now about the Linux 2.6 kernel.
Rootkits for the Linux kernel 2.6
Today's rootkits infiltrate a target system at kernel level, thus escaping unwanted attention from administrators. Read on for a practical look at how a kernel rootkit really works.
Shutting out intruders with AppArmor
When an attacker succeeds in infecting a victim's system, the attacker inherits the victim's privileges. App Armor beats the attack by reducing the potential victim's privileges to a minimum.
Mandatory Access Control with SELinux
SELinux provides a comprehensive Mandatory Access Control system for Linux, if you are ready for all the details.
Novell and Red Hat security experts face off on AppArmor and SELinux
Security Enhanced Linux or App Armor? Linux Magazine invited two well-known personalities from Red Hat and Novell to debate the merits of their security systems.
Oracle Database 10g Linux Administration Run Your Own Web Server Using Linux and Apache Point & Click OpenOffice......
A look at the Gnome 2.14 desktop environment
New features and a leaner, faster, prettier desktop. Are you ready for the latest Gnome?
Making metadata with Leaftag
The experimental Leaftag provides a convenient means for associating files with search categories and other metadata.
Visit Our Shop
Direct Download
Tag Cloud