Issue #75 / Feb 2007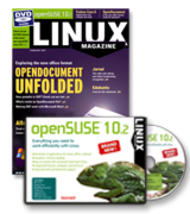 DVD: openSUSE 10.2
A look at Linux with the latest Microsoft system
Will your strategies of coexistence work for the newest version of Windows? We examined Windows Vista with an emphasis on issues of Linux compatibility.
Handling of complex tasks with make
Developers, LaTeX users, and system administrators can all harness the power of make.
Community Notes
Jon Masters rounds up this month's happenings in the Linux User Group (LUG) community.
An up-to-date look at free software and its makers
Shaping 3D objects with two-dimensional input devices is not easy. In this issue, we investigate how the K-3D project tackles designing a new user interface. Also, Towns triumphs, trouble at Debian, and good news.
Visit Our Shop
Direct Download
Tag Cloud