Issue #79 / Jun 2007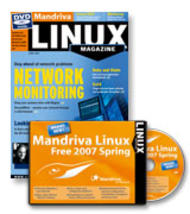 DVD: Mandriva 2007 Spring
VirtualBox
Many popular virtualization tools are either too expensive or too complicated. If you're looking for another option, try the no-cost and user-friendly VirtualBox.
LiVES video editor
Linux users who edit videos on their computers have so far been restricted to the fairly simplistic Kino program and the functional monster Cinelerra. LiVES steps up to fill the gap.
Klaus Knopper is the creator of Knoppix and co-founder of the LinuxTag expo. He currently works as a teacher, programmer, and consultant. If you have a configuration problem, or if you just want to learn more about how Linux works, send your questions to: klaus@linux-magazine. com
The sys admin's daily grind: CGI:IRC
Have you ever felt frustrated because you were looking forward to a chat session but didn't have access to a client? Firewalls, or simply not having access to your own machine, can be frustrating. Wth CGI:IRC, all you need for IRC is a web browser.
Building a dynamic blacklist with Netfilter's Recent module
Netfilter's Recent module builds a temporary blacklist to keep intruders off your network.
Rapid application development with Ruby and Glade
Application development shouldn't be a chore. We'll show you how to simplify the development process with the Ruby programming language and the Glade interface design utility.
Do-it-yourself OCR with Perl modules
SecurID tokens use an authentication system by RSA Security to give the user a valid key for logging onto the target system. A home-grown optical character recognition tool in Perl monitors the key generator.
Finding files with Recoll
Whether you're looking for a letter to the Internal Revenue Service or an email from an online trader, the Recoll desktop search machine will help you find it with just a few mouse clicks.
PCManFM with tabbed browsing
Convenient file management beyond Nautilus and Konqueror is very much a real option. The PCManFM program is an attractive option with lean architecture and innovative features.
Groupware made easy
Small workgroups often rely on email as their primary collaboration tool because many groupware solutions require time and expertise to install and configure, and extensive feature sets can be overkill. Mindquarry collaboration
software aims to solve these problems.
Visit Our Shop
Direct Download
Tag Cloud