Issue #80 / Jul 2007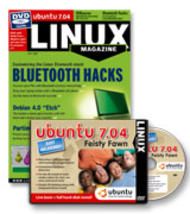 DVD: Ubuntu 7.04 'Feisty Fawn'
Linux System Administration The Linux Programmer's Toolbox Building a Monitoring Infrastructure with Nagios...
A look at Debian's new version 4.0 "Etch" release
You'll find a new graphical installer and plenty of intersting tools in the latest from the famous Debian Project.
Practical uses for the Wireshark traffic sniffer
If you know your way around network protocols, you can get to the source of a problem quickly with Wireshark.
Maya 8.5
Realistic computer-animated movie scenes have been around for years, but hair, water, and fire are still difficult for 3D programs to handle. The new Maya 8.5 stands above the crowd.
Backing up partitions with Partimage
Protect your system and preserve your configuration with this powerful backup tool.
Klaus Knopper is the creator of Knoppix and co-founder of the LinuxTag expo. He currently works as a teacher, programmer, and consultant. If you have a configuration problem, or if you just want to learn more about how Linux works, send your questions to: klaus@linux-magazine. com
The sys admin's daily grind: P3Scan
Checking email for viruses is typically the domain of the SMTP gateway or a server directly downstream of it. In this month's column, Charly decides to move this protection to the other side – that is, to the client connections
with their SMTP and POP servers.
Exploring the Linux-based Zeus load balancer
On today's networks, distributing requests in a cluster of web servers requires more than just assigning the requests in a round robin. The Zeus ZXTM 7400 appliance demonstrates the technical finesse necessary to keep busy websites running.
Power through power outages
An uninterruptible power supply can help get you through a short power outage without losing data or damaging hardware. A Nagios script written in Perl checks UPS health and initiates a controlled powerdown if the unit exhausts its battery capacity.
Managing wireless connections with WiFi-Radar
The fast and easy WiFi-Radar is a handy Python-based tool for finding and automatically launching wireless connections.
Visit Our Shop
Direct Download
Tag Cloud