Issue #89 / Apr 2008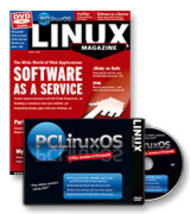 Bringing Google applications to your desktop
Just because Google's services are web-based doesn't mean you can't use them from the comfort of your desktop.
Reviews of Learning PHP Data Objects and Programming Collective Intelligence....
Building your own video server
We'll show you how to build your own Linux-based video server that records, stores, and distributes TV programs.
KNOW-HOW: IPMI
Monitoring remote servers with IPMI
Intelligent Platform Management Interface, IPMI, lets you monitor the status of the remote server – even if the server isn't running.
Klaus Knopper is the creator of Knoppix and co-founder of the LinuxTag expo. He currently works as a teacher, programmer, and consultant. If you have a configuration problem, or if you just want to learn more about how Linux works, send your questions to: klaus@linux-magazine. com
The sys admin's daily grind: PWGen
Easy to remember but still safe – this is the classic conflict when it comes to choosing a password. The PWGen tool offers a sensible compromise.
De-perimeterization and life after the firewall
Enterprises and organizations used to feel protected behind the firewall, but now VPNs, e-commerce, web services, and Web 2.0 have put an end to the comfort. The network perimeter is losing its significance, and the time has come for a new approach to security.
Backing up hard disk partitions over the network
A partition backup offers several advantages over legacy, file-based backup alternatives, and using a backup server adds even more convenience. We'll show you some free tools for partition backup over the network.
Refreshing netstat output with Perl
The netstat utility reveals how your Linux box interacts with the local network. With a few Perl modules, you can develop a tool that displays the data dynamically, exactly the way top does.
LINUXUSER: SIOX
Easy graphic masking and extraction with SIOX
SIOX easily masks and extracts any area from a pixel graphic. We'll show you how to improve your pictures with this powerful plugin.
Visit Our Shop
Direct Download
Tag Cloud