Protecting your USB sticks with encryption
Atick Security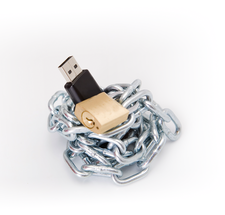 How easy is it to lose a USB stick? Why not protect your data just in case the stick falls into unfriendly hands?
Many users carry critical information around on USB sticks. The information on the stick might include passwords, email addresses, spreadsheets, and other confidential information. If the stick is lost, the data could fall into the wrong hands. In this article, I'll show you how to encrypt information stored on USB sticks.
Encryption takes the worries out of carrying around USB treasures. Thanks to the device mapper infrastructure introduced with kernel 2.6, Linux now lets you add a protective shield to a filesystem. The dm_crypt kernel module uses this approach to encapsulate filesystems in an encryption layer. To mount the partition or hard disk, you first need to remove the protection by entering the correct password (Figure 1).
[...]
Read full article as PDF »
comments powered by

Disqus
Visit Our Shop
Direct Download
Read full article as PDF »
Tag Cloud