Serves you right
Cloud 9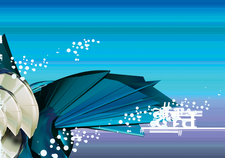 This cloud-in-a-box serves up shared space for a jukebox, photos, blogs, file sharing, workspace apps, and more.
Cloud computing is all the rage these days. In fact, the idea of having all your applications and data in the cloud gave birth to a whole new type of computing device known as the netbook. In most cases, cloud computing means using third-party web-based applications and services, but why not roll out a little cloud of your own? It might sound like a daunting proposition, but with Tonido [1] you can turn your Ubuntu-based machine into a cloud server in a matter of minutes. Although Tonido can't replace web-based applications like Google Docs, Flickr, and Blogger, it does provide an excellent platform for deploying a secure and easy-to-use collaboration and sharing peer-to-peer environment.
Running your own server means that you are responsible for maintaining and managing it, but this also gives you a few important advantages. First and foremost, you retain complete control of your data because you don't have to store it on a third-party server. Any web application requires a decent Internet connection. Not so with your own Tonido server: Even if your Internet link goes down, all Tonido's applications and data can be accessed through the local network, or even directly on the machine running the server software. Because you can deploy Tonido on a local network, it provides an ideal solution for setting up a collaboration environment without exposing it to the outside world.
Getting Started with Tonido
In the Linux world, Tonido is currently available only as a .deb package for Ubuntu-based distributions, so the machine you want to use as a Tonido server must run Ubuntu or any of its derivatives. This also means that you can install the Tonido package easily with the GDebi graphical tool or by executing the sudo dpkg -i TonidoSetup_i686.deb command. Then you can launch Tonido from Applications | Internet. On launch, Tonido presents the default browser and prompts you to create a profile (Figure 1). Creating the profile is as easy as specifying a unique profile name, password, and a few other pieces of information. The profile name is the only thing that is sent to the Tonido service, and it's done only once.
[...]
comments powered by

Disqus