Issue #109 / Dec 2009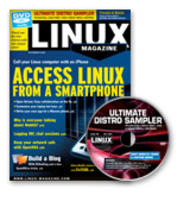 LINUXUSER: Prune
An Introduction to Prune
Have more fun with your GPS data with this easy-to-use Java-based tool.
OpenOffice.org and Bilboblog
Dmitri shows you how to compose and publish your blog from OpenOffice.org.
Yummy, yummy, yummy
The RPM package manager Yum has its own advantages over other tools.
E-Learning with Moodle
The Moodle course management system is useful for e-learning and for practical work in the computer room.
Access to the source code confers an advantage
In times of economic stress, you can add value to your services by leveraging the resources of the FOSS community.
"40 Years of Unix" Celebration
The emphasis was on technical interactions in a spirit of community at the Ohio Linux Fest.
A Linux Foundation event
Linux kernel developers, community members, and industry leaders gathered in Portland for The Linux Foundation's first LinuxCon.
World's Largest Gathering of Technical Women
Women in tech gathered to investigate the theme, "Creating Technology for Social Good."
An up-to-date look at free software and its makers
Free software at the movies: Thanks to projects such as Blender and Synfig Studio, fans of animated movies now have the right choice of tool. The "Social Media Guide" suggests how to improve the marketing of free software projects on the web.
Visit Our Shop
Direct Download
Tag Cloud