Issue #111 / Feb 2010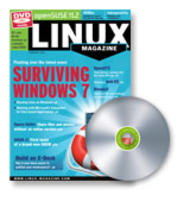 DVD: openSUSE 11.2
OpenSUSE is one of the world's most popular Linux distributions, with a long tradition of excellence and plenty of te......
openSUSE 11.2 32- and 64-bit + Live version
This month's DVD comes with 32-bit and 64-bit versions of openSUSE 11.2. This special promo edition of openSUSE inclu......
News from around the globe.
Doing Linux Backups Right: Time Drive 0.3 OLPC Moves to ARMBased, Paper-Thin Netbook R1Soft Releases Linux Hot C......
Linux in the not-so-Linux world
This month we look at some Windows 7 interoperability tools and examine the phenomenon of the Internet OS.
File sharing with Opera 10.10 Unite
Version 10.10 of the Opera web suite lets you put a server in your browser.
The sys admin's daily grind: sslh
Some of Charly's servers run the SSH daemon on port 443 rather than on the standard port 22. If an SSL-capable Apache web server starts causing trouble, his method of settling the dispute is sslh.
Overflows, underflows, and other security flaws
Our security guy looks at software tools that you can use to audit and secure your software.
Moving beyond basic Bash
Even beginners can benefit from a greater understanding of the Bash shell's many builtin commands.
Keep it simple
The Moms and Pops of the world need a source of local support.
Visit Our Shop
Direct Download
Tag Cloud