Issue #117 / Aug 2010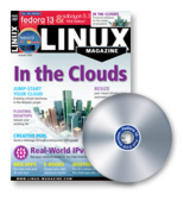 DVD: FEDORA 13 & SABAYON 5.3 "KDE EDITION"
Letter from the editor
A Linux distro for the XP user?
Latest release from the Red Hat-sponsored project...
Full DVD Version!
The famous Fedora Linux is a versatile community distro backed by one of the biggest (and oldest) Linux companies. Re......
This month's news
iPhone 4 Defensive Patent License Red Hat Chairman to step down in August Fastest super computers in the world......
The sys admin's daily grind: login mail
Charly often gets suggestions and ideas for his column at community get-togethers. Last week, he picked up a tip for an early warning system that quickly secures login attempts.
DNSSEC primer
One of the largest holes in the Internet is finally plugged.
Klaus Knopper answers your questions
I am new to Linux and I enjoy Fedora. I have been able to conquer many tasks, but one is really beating me up. I do......
Manage Your Money with Skrooge
Keeping track of your money is one of the unfortunate responsibilities that comes with adulthood and financial independence. If you need to balance the books, Skrooge might be just what the accountant ordered.
Cache
Magazines, editors, and authors coming to a city near you!
Doghouse: Where's the fun?
When building a community, don't forget to inject a healthy dose of fun.
Visit Our Shop
Direct Download
Tag Cloud