Issue #121 / Dec 2010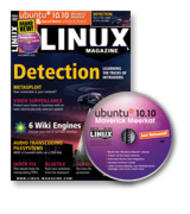 DVD: Ubuntu 10.10 & Special Bonus: Backtrack Network Security Suite
Maverick Meerkat Just Released!
Brand New "Maverick Meerkat" release Check out the latest software Improved Ubuntu One Integration Up......
Letter from the Editor
My town has one cable company. One or two other options exist for high-speed Internet service – some (but not all) locations support DSL through the phone provider.
Table of Contents
Detection
International Technology News
Netgear Launches Network Management Platform
Low-Distortion TI Operational Amplifier
Eurotech Unveils Catalyst TC
IBM New Global Financing Program
Double-sided DVD
The sleek and smart Ubuntu Linux rolls out a brand new release – with plenty of powerful tools for the home and business.
mozStorage
The PublicSQL article in the October 2010 issue was interesting, and I'm sure readers would be interested to know that you can use the mozStorage API to write data to a local SQLite database.
Wiki engine hands-on test
Wiki engines drive patient data stores, repositories for ideas or documentation, and treasure troves of knowledge of all kinds. In this review, we put six of these engines through their paces.
Plugin Vulnerabilities
Plugins provide a lot of functionality but, depending on their quality, they can provide unwanted security issues as well. We show you how to protect yourself from plugins.
Mentorship projects gear up for matchmaking
In our September issue, I wrote about mentors – specifically, how someone could find one.
maddog goes to Rio for "Hack and Beer" and learns to appreciate the journey.
The little boy behind me was really excited about his first airplane trip. When the plane started to take off, he gave a very loud countdown to "blast off!" It was refreshing to hear that much enthusiasm, particularly because air travel has become a "magic elevator" for me. The doors close in one location and open in another, but I have little excitement in the journey, only the destination.
Visit Our Shop
Direct Download
Tag Cloud