Issue #127 / Jun 2011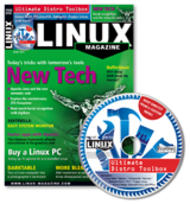 DVD: Ultimate Distro Toolbox: Linux Mint, PCLinuxOS, Sabayon, Puppy Linux, and more!
Issue #127
...
Dear Linux Magazine Reader,
New Tech, and much more!
...
Linux Mint "Debian", PCLinuxOS "Gnome", Puppy Linux 5.2.5, IPFire 2.9, Parted Magic 5.10, Zenwalk Core 7.0
This month's Linux Magazine DVD offers a collection of small and alternative distros. The DVD boots into a custom men......
tcpflow and HugeURL
First the fun, then the pleasure: This month, we look at a TCP that administrators have to take seriously, followed by some URL fun.
Will cheap RAM break the Internet?
An abundance of buffers hides the Internet's dirty little secret.
Perl and OpenOffice for Lovely Labels
OpenOffice offers a selection of preconfigured formats for users who need to print their own self-adhesive labels. Perl feeds the address data to the document.
COMMUNITY: Cache
You've come a long way, Tux!
PyCon is where the Python programming language meets Python personalities and serves to educate, excite, motivate, maintain, and recruit Python users and developers.
Celebrity players from the world of Linux at the CeBIT Open Source Forum presented Linux New Media Awards 2011 in seven categories. The Debian project took two prizes.
Visit Our Shop
Direct Download
Tag Cloud