Issue #128 / Jul 2011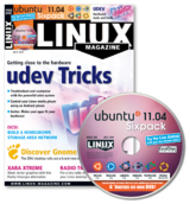 DVD: Ubuntu 11.04 Sixpack
Issue #128
...
Editorial
Dear Reader,
Device Tricks
...
Ubuntu, Kubuntu, Lubuntu, Xubuntu, Mythbuntu, and Ubuntu Rescue Mix
The latest installment in our Ubuntu Six Pack series comes with a smart collection of Ubuntu 11.04 variants.
Exploring the new Gnome desktop
The new Gnome desktop offers a simpler work environment – once you become accustomed to the new navigation tools.
Calendar-related crontab issues
This month, Charly considers Jacobin rule, Napoleon Bonaparte's neoconservatism, Jewish and Islamic tradition, and a cronjob that nearly worked.
Owning your own stuff
Who's device is it? Just because you bought it doesn't mean you can look inside. But the Internet has plenty of resources for jailbreakers.
Serendipitous Flattr-y
Contributing cash to an open source project was never easier.
Taking the Leap
A young potential convert seeks advice from a seasoned Free Software advocate.
Keeping up with the Kernel
Chronicler Zack Brown reports on the latest news, views, dilemmas, and developments within the Linux kernel community.
Visit Our Shop
Direct Download
Tag Cloud