Issue #130 / Sep 2011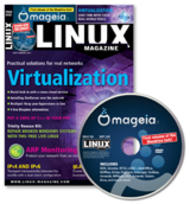 DVD: Mageia 1 - first release of the Mandriva fork
COMMUNITY: Cache
Need some extra cash? Enjoy a challenge? Not afraid of a little competition? If this sounds like you, then put on your coding cap and dive into an open source contest.
Neither time nor politics can stay the progress of Project Cauã.
Chronicler Zack Brown reports on the latest news, views, dilemmas, and developments within the Linux kernel community.
Visit Our Shop
Direct Download
Tag Cloud