Issue #131 / Oct 2011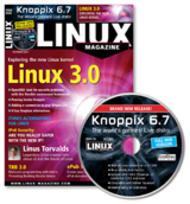 DVD: Knoppix 6.7 - The world's greatest Live distro
Issue #131
...
As is so often the case in this business, a big, earthshaking news story hit the press just as we were sending our own issue to the printer.
This month's Linux Magazine DVD features the brand new Knoppix 6.7 Live distro [1] [2]. With its clever on-the-fly decompression, Knoppix manages to store 9GB of software on a single-layer DVD.
Commercial open source Business Intelligence provider Jaspersoft announced the launch of Self-Service Express, a subs......
In June of this year, kernel developer Greg Kroah-Hartman sat down with Linus Torvalds in front of a live audience at LinuxCon Japan to look at the first 20 years of Linux, the state of the kernel, and the future of Linux.
The sys admin's daily grind: haveged Random Release
Practical cryptography is often an encounter with many random numbers in just a few moments. Entropy is the raw material that gives birth to the random number, but it's harder to come by than you might think.
Detecting source code modification attacks
Learn how to protect yourself against malicious attacks by modified source code.
Chronicler Zack Brown reports on the latest news, views, dilemmas, and developments within the Linux kernel community.
This month, we explore open source science projects. The young TileMill project is a powerful mapping tool for cartographers, HUBzero provides a platform for scientific collaboration, and the NASA-sponsored Virtual Microscope magnifies specimens without breaking any glass slides.
Tux visits Tux – about 50 geeks and one huge penguin travelled south to the beautiful village of Lanersbach in Tux, Austria, to hack Linux, drink beer, and hike in the Alps.
Visit Our Shop
Direct Download
Tag Cloud