Issue #132 / Nov 2011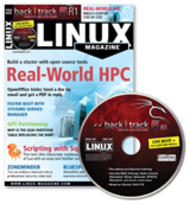 DVD: BackTrack 5 R1 Network Security Suite
Issue #132
...
As you will see if you read our news, Hewlett Packard, which everyone calls HP, was big this month. The computer giant announced some sweeping changes, including sweeping changes to undo the sweeping changes they announced a few months ago.
This issue's DVD comes with the BackTrack 5 R1 [1][2][3] pen test distribution. BackTrack provides a great collection of pen testing and security auditing tools. You can boot into BackTrack Live from the DVD or install BackTrack permanently on your hard disk.
SunGard announced the availability of Recover2Cloud, a new suite of recovery services for cloud platforms. The new of......
Storing your passwords properly
High-performance graphics cards and proper storage can help keep your passwords secure.
The sys admin's daily grind: OpenNetAdmin
Last month, the Havege daemon helped organize the chaos in this column. Today, Charly attempts to organize the network – a tale of suffering in three chapters.
At the recent LinuxCon North America [1] in Vancouver, Canada, we celebrated the 20th anniversary of the start of the Linux Kernel project. Many of the best developers in the community were there, and we had "gala" events celebrating the past 20 years. Although the Linux kernel tends to dominate aspects of computing such as high-performance computing, embedded systems design, and servers, several people acknowledged that we still have not enjoyed "the year of the Linux desktop."
Chronicler Zack Brown reports on the latest news, views, dilemmas, and developments within the Linux kernel community.
Drupal and WordPress often hog the spotlight, but other content management systems offer impressive performances. This month, we look at the latest Joomla release and check out concrete5.
Visit Our Shop
Direct Download
Tag Cloud