Issue #148 / Mar 2013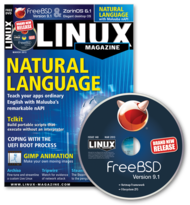 DVD: FreeBSD 9.1 & Zorin OS 6.1
Issue #148
Zorin OS 6.1 and FreeBSD 9.1The Zorin operating system was created for Windows users who want to transition easi......
Editorial
The very day this magazine goes to print, Fedora 18 is enjoying its official release. I have watched the first official reviews come online gradually over the course of the day, as they always do with such events. The extensive Linux blog and tweet engine is always waiting for the next big topic, and it is always ready to lend some content space for anything new.
What's inside the March 2013 issue
Science fiction authors and high-tech visionaries dream of a future where humans and computers communicate in ordinary English. A new cloud-based tool brings that future a little closer.
This month's DVD
Zorin OS 6.1 and FreeBSD 9.1
The Zorin operating system was created for Windows users who want to transition easily to Linux. Zorin includes a Look Changer program that allows you to change the user interface between the look and feel of Windows 7, XP, and Vista, or even Mac OS X, Ubuntu Unity, or Gnome 2. With Zorin, you can operate in a familiar environment without worrying about malware, viruses, and other security threats.
Samba 4.0
FTC ends Google investigation
Samba implements Windows AD
News Bites
Linux Phones
Ubuntu launches a new phone OS
Samsung announces Tizen phone
Perl turns 25
Big Data DB
vert.x project leader
Apache Cassandra v1.2 released
HPC app contest
NVidia gaming device
Qt 5.0 Released
Oracle NoSQL DB 2.0
SuperSpeed USB 3.0
Natural language processing with Maluuba's nAPI
Add natural language processing to your own applications with Maluuba's Natural Language API (nAPI).
Coping with the UEFI boot process
The UEFI boot specification offers new capabilities – and new headaches – if you aren't ready for it. Learn how one Linux user came to a truce with the new sheriff.
Creating animations with GIMP
Although developed for editing individual images, GIMP has everything you need to create perfect animations via plugins and scripts.
Creating your own Mumble server
The Mumble server lets you hear your multiplayer game opponents over VoIP, freeing you from inconvenient text chat during game play.
Visit Our Shop
Direct Download
Tag Cloud