Latinoware 2010

Paw Prints: Writings of the maddog
Nov 10, 2010 GMT
I am at Foz do Iguaçu, Brazil, attending a conference called Latinoware. Of course I am seeing a few old friends and many new ones, but I am also happy to report that the facilities for Latinoware, which is held on the grounds of the Itaipu hydro-electric plant, have been upgraded to be a very comfortable conference facility. There is a good-size exhibition hall, many different rooms for the different talks, and is well laid out.
The conference attendees are even more diverse this year than past years, with people from Brazil, Paraguay, Chile, Peru, Argentina, Venezuela, Colombia, Uruguay and other South American countries.
Early (for me) in the morning I attended a great talk on the Arduino given by my friend Álvaro Justen,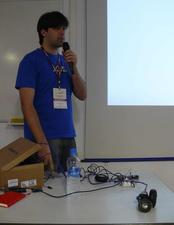 A great talk by my friend Alvaro Justen
and even though the talk was in Portuguese, I still managed to understand quite a bit and learned a thing or two. I also got to see some different Arduino units that I had only read about or seen on the Internet. Álvaro braved to do something that I would not normally do, which was to pull a small robot out of a box, and actually have it run during his presentation. This might not have been so breathtaking, but the robot consisted of a Wii controller, a breadboard with wires stuck into (and falling out) of it, and a mechanical "drive" made up of a speaker that could "squeak" and two motors just barely stayed attached to two wheels.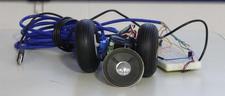 The awesome Arduino-driven robot
In fact one wheel kept falling off, but Álvaro kept putting it back on. Álvaro had to reposition several of the wires and then tape them down with scotch tape in order to keep them in place while the robot was working. It definitely looked like a "hack".....but it worked.
The rest of the day I spent talking to people about Project Caua, autographing Linux(Pro)Magazines at the Linux New Media booth and working on this blog.
Tomorrow I am going to make sure I see the talk by Doug McIlroy, the person credited with the development of pipes and filters and the concept of macros. I have known Doug personally for a couple of years, and he is both a distinguished computer scientist and a really nice guy.
comments powered by

Disqus

Issue 198/2017
Buy this issue as a PDF
Digital Issue: Price $9.99

(incl. VAT)
News
Both projects help organizations build their own containerized systems.

Mark Shuttleworth has resumed the position of CEO of Canonical.

Microsoft's open source code hosting platform CodePlex will come to an end after a more than 10-year stint.

Comes with Gnome 3.24

The bug was introduced back in 2009 and has been lurking around all this time.

The new release deprecates the sshd_config UsePrivilegeSeparation option.

Lives on as a community project

Five new systems join Dell XPS 13 Developer Edition that come with Ubuntu pre-installed.

The Skype Linux client now has almost the same capabilities that it enjoys on other platforms.

At CeBIT 2017, OpenStack Day will offer a wide range of lectures and discussions.