Monitor Your server with Linux Dash

Productivity Sauce
Feb 11, 2014 GMT
Linux Dash is a new addition to the growing list of server monitoring utilities. Previously, I covered phpSysInfo and Linfo. Both are decent tools for keeping an eye on a remote Linux server, but there is always room for one more. Linux Dash's claim to fame is its slick and responsive interface that works equally well on large and small screens. This means that you don't need a dedicated app on your mobile device to access the remote server's stats. Similar to other monitoring tools, deploying Linux Dash on a server is supremely easy. Grab the latest release of the application from the project's GitHub repository (or clone it using the git clone https://github.com/afaqurk/linux-dash.git command), unpack the downloaded archive, and move the resulting directory to the root of the server. If you don't want to expose your server's info to the rest of the world, you might want to protect it using htaccess or other methods.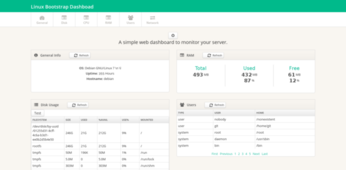 Linux Dash's interface provides a detailed overview of all vital aspects of your server, including RAM and disk usage, network, installed software, users, and running processes. All information is organized into sections, and you can jump to a specific section using the buttons in the main toolbar. Linux Dash is not the most advanced monitoring tool out there, but it might be a good fit for users looking for a slick, lightweight, and easy to deploy application.
comments powered by

Disqus

Issue 37: Discover LibreOffice – 2019 Edition/Special Editions
Buy this issue as a PDF
Digital Issue: Price $15.99

(incl. VAT)
News
Anyone looking to finally get their hands on an early release of the PinePhone can do so as of November 15.

Microsoft is bringing it's new Chromium-based Edge browser to Linux.

OIN has deployed its legal team to find prior art.

The latest version of Fedora comes with new packages and libraries.

openSUSE enables developers to build their own WSL distributions.

A vulnerability in the sudo package gives sudo users more powers than they deserve.

The Art of PostgreSQL by Dimitri Fontaine is now available.

New distro will provide an upstream test bed for RHEL.

The feature will let developers restrict root access to the kernel.