OpenMapi: Free Libraries For Microsoft's Mail-Interface
Sep 16, 2008
Several groupware developers have come together to work on Project OpenMapi, an open source API, based on Microsoft's Mapi.
The project is supported by the German companies Wilken, VipCom AG, Topalis with Zafara and will provide open source libraries with an API based on Mapi. It will support various backends (e. g. Zarafa servers, Teamxchange) and will be used to develop different programming languages ( C, Java, PHP, Python and C#) on operating systems such as Windows, Linux and Mac OS X.
The most important of the libraries, Nmapi, written in C# is suitable for Mono and .Net. Additionally, a proxy will be developed to provide a unified interface between clients and servers, independent of how the protocol for communication with the server is written and without any cumbersome client configuration.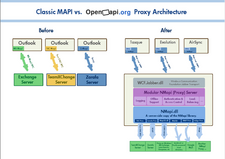 OpenMapi will provide unified access to different servers
Communication with the proxy will be via Java-Library, Jmapi and gateways will provide support for IMAP and POP3 with an Active-Sync gateway with support for mobile devices.
Nmapi, Jmapi are licensed to GNU LGPL. The programme downloads and the path to the source text repositories have been announced on the OpenMapi homepage, but are not yet available.
comments powered by

Disqus

Issue 199/2017
Buy this issue as a PDF
Digital Issue: Price $9.99

(incl. VAT)
News
Both projects help organizations build their own containerized systems.

Mark Shuttleworth has resumed the position of CEO of Canonical.

Microsoft's open source code hosting platform CodePlex will come to an end after a more than 10-year stint.

Comes with Gnome 3.24

The bug was introduced back in 2009 and has been lurking around all this time.

The new release deprecates the sshd_config UsePrivilegeSeparation option.

Lives on as a community project

Five new systems join Dell XPS 13 Developer Edition that come with Ubuntu pre-installed.

The Skype Linux client now has almost the same capabilities that it enjoys on other platforms.

At CeBIT 2017, OpenStack Day will offer a wide range of lectures and discussions.