Simple DirectMedia Layer 2.0
Loop the Loop
In contrast to SDL 1.2, SDL_WaitEvent() no longer sends the application or the process to sleep. Instead, SDL_WaitEvent() internally runs through a loop until an event occurs. However, the developers have already said that this behavior might change again in the future.
Final Cleaning
To clean up, you should always release the memory occupied by a texture, destroy the renderer and the window, and wipe down SDL with a damp cloth:
SDL_DestroyTexture(texture);
SDL_DestroyRenderer(renderer);
SDL_DestroyWindow(mywindow);
SDL_Quit();
The complete program is shown in Listing 2. To improve readability, it only fields errors on initialization. You can easily build the program:
gcc -Wall -o helloworld helloworld.c -lSDL2
The application in Listing 2 only demonstrates how to use a small fraction of the options offered by the SDL. A complete description of the feature scope would fill an entire book. Unfortunately, this kind of documentation is not the developer's favorite subject. The official SDL wiki (Figure 6) provides only an incomplete function reference [5]. Developers are advised to use the comments in the header files as a reference.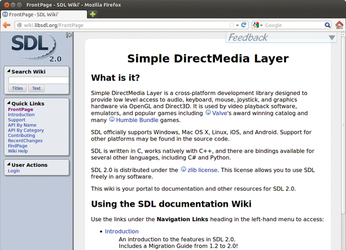 Figure 6: The SDL developers are desperately looking for volunteers to update the wiki.
Converts from the legacy version 1.2 should read also the Migration Guide [6]. A well-made tutorial for C++ developers can be found on GitHub [7]. All other instructions on the Internet still referred to the legacy SDL 1.2 when this issue went to press.
Conclusions
SDL 2.0 greatly simplifies programming of platform-independent multimedia applications. Listing 2 runs unchanged on all supported systems. The new functions, such as supporting multiple windows and graphics acceleration, were overdue and eliminated the hacks from the past.
As the word "simple" in the name suggests, SDL is still a low-level library that primarily aims to simplify and unify hardware access to multiple platforms. Even the simple drawing functions for rectangles and circles were only added to the new version after the developers received (multiple) requests from users.
If you are looking for fast results, or if you build prototypes, you will probably prefer a games or 3D engine like Pygame, Unity, or Ogre 3D. The developers have postponed some features originally planned for SDL 2.0 to later versions. The idea was to keep the API stable for the time being; changes are only being discussed for version 2.1.
Version 2.0.0 has a few minor bugs [8]; nevertheless, SDL 2.0 is already in use, where stable. New applications should no longer rely on the legacy SDL 1.2 – the future clearly belongs to version 2.0.
comments powered by

Disqus
Visit Our Shop
Direct Download
Read full article as PDF: