Dive into LibreOffice – Hidden Gems
Coming Up in LibreOffice 5.4
LibreOffice follows a time-based release schedule, so updates with new features (as opposed to bug fix revisions) are released every six months. Version 5.4 of the suite is due in late July or early August 2017 and looks to be a fairly conservative version compared to 5.3, which was jam-packed with new goodies.
At the time of writing, there were still a few months of development ahead, but already some useful changes have been implemented: new context menu items for editing sections, headers and footers in Writer; stored settings for CVS export in Calc (so you don't have to correct them every time you export a file); and many improvements to EMF+ vector images import (used by Microsoft Office file formats).
Additionally, there are some welcome performance improvements to LibreOffice Online (see the "LibreOffice Online" box), along with the usual bevy of bug fixes. If you want to try a development snapshot of what will become LibreOffice 5.4, you can grab the latest RPM or .deb packages (or compile from source if you're particularly daring) via the dev-builds section of the LibreOffice website [7]. In general, snapshots can be installed alongside stable releases, so you can happily use LibreOffice 5.3 for real work while testing out the newer version.
Something else worth keeping an eye on is LibreOffice Online (see Figure 5). As the name suggests, this is a version of the suite that can run inside a web browser, with the content being served over the network. LibreOffice Online has been in development for a few years, but has recently made major strides forward thanks to Collabora, which specializes in long-term supported versions of the suite (e.g., for government and enterprise usage).
Currently, LibreOffice Online looks and feels like a trimmed-down version of the suite; it offers most essential formatting features, but it lacks every single menu item, dialog, and checkbox that you'd find in the regular desktop edition. Still, because it uses the same underlying document layout engine as desktop LibreOffice, Open Document Format (ODF) files should be displayed identically when you're switching between the browser and native app.
LibreOffice Online can be integrated with Nextcloud for a fully FOSS document sharing and collaboration system. It still needs some work, especially in terms of performance, but it's coming on well – you can get access to a demo on Collabora's website [6]. Note that The Document Foundation has no plans to provide hosted versions of LibreOffice Online, because it would require a vast amount of resources if uptake was quick. Instead, the software is available for third parties to install and run on servers.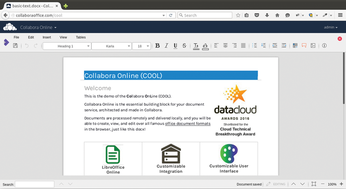 Figure 5: LibreOffice Online is making good progress, although it needs some work on performance.
comments powered by

Disqus
Visit Our Shop
Direct Download
Read full article as PDF: