FOSSPicks
Pass CLI GUI
rofi-pass
We're huge fans of the pass password manager. The brilliant thing about pass, and what sets it apart from the likes of LastPass, is that you control its implementation. You use your GPG keys to encrypt minimal text files containing your passwords and usernames. Because you usually name these files after the web services they access, you can quickly navigate to the correct password when you need it. pass does this for you on the command line, and a GUI-like qt-pass does the same thing from the desktop. We're big fans of qt-pass too, but it needs to be mentioned that a recent release contained a catastrophic vulnerability that meant randomly generated passwords weren't being randomly generated at all, and instead were pseudo-randomly generated from a small and limited pool of possibilities. If you've used qt-pass to generate passwords, check which version you used and update your passwords accordingly.
The only problem with pass is that it has none of the convenience of the tools that automatically enter your password for you. This can be solved by scripting your own solutions, as users have done for the brilliant qutebrowser, but it's a job made considerably easier with rofi-pass, a rofi-based command-line user interface to your pass password repository. By simply running the command, you can browse your complete repository, select the service you want to access, and then enter your passphrase via your system's standard password entry form. You can even create new entries, all without needing to remember the specific pass syntax. It can be used on its own or within your own scripts, and it's a great solution for proto-browsers like qutebrowser that may not yet implement their own APIs or connect to popular password interfaces.
Project Website
https://github.com/carnager/rofi-pass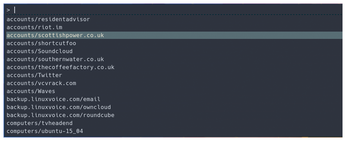 Use pass to manage your passwords and rofi-pass to access them easily from the command line.
Music player
comments powered by

Disqus
Visit Our Shop
Direct Download
Read full article as PDF: