FOSSPicks
cointop
It may have taken 10 years, but the price and trading explosion of late 2017 pulled the likes of Bitcoin and Ethereum into a whole new realm of attention and scrutiny. And yes, there's a lot of legal and moral ambiguity surrounding cryptocurrencies, but they're fundamentally a series of open source algorithms that implement a chain of trust. It's we humans that place value on them, whatever that happens to be. That makes them legitimately interesting if you're interested in technology and a legitimate waste of time if you want to track their value and their trends – which is where the wonderful cointop comes in.
When Hollywood gets around to dramatizing Bitcoin in the same way it has Jordan Belfort and Wall Street, it will show a wall of terminals and a hacker running cointop. It looks exactly as you'd expect a tracker for deviant currencies to look. Run from the command line, it lists the top cryptocurrencies sorted by market cap (by default) in the same way top lists your system processes sorted by CPU load. The top bar, like the ticker on a stock exchange, shows the 24-hour volume, Bitcoin dominance percentage, the total number of markets, and several other mind-boggling statistics. Beneath this you get a histogram that defaults to average price over time, changeable by selecting a currency with the cursor keys. Below this is a huge table giving you everything you need to know about each currency. It's much more effective than using a website and genuinely insightful because there's no opinion, no advertising, and no speculative figures – just the facts presented in a clear and data-rich way. If you have any interest in this kind of thing, even as a passive observer, cointop offers a brilliant peek into the burgeoning and entropic world of new currencies.
Project Website
https://github.com/miguelmota/cointop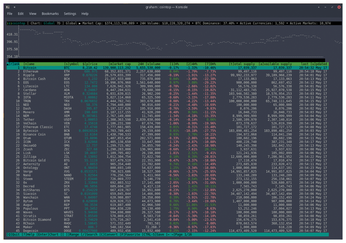 Better than a web portal, cointop keeps you unproductive at work by bringing crypto prices to the command line.
Online font search
Font Finder
Fonts aren't something most users spend too much time thinking about. Most distributions include a good selection, with even some, such as Ubuntu, bundling their own fonts designed specifically for clarity and design aesthetics, but if you spend a lot of time with code or words, you'll know that the right font doesn't simply look good; it also helps ease eye strain and aid clarity. For those reasons, spending a little time trying out a few more options than those provided by your desktop or distribution is likely to reap some excellent usability, design, and health benefits.
KDE has a great font-browsing tool that will let you preview fonts, as well as let you install them either locally or globally with a single click – and you can even do this from Dolphin's right-click menu when more than one font is selected. But there isn't always an easy way of browsing fonts you may potentially want to install. Font Finder could be the solution; it acts as a kind of application store for the free fonts hosted on Google's font archive. It's also a lovely Gtk3 application, with a sleek minimal interface. There's a category browser, so you can easily search for monospace, for instance, and a search field that lets you filter fonts according to your criteria. Results are delivered in the main view, but critically, the results are previews of the fonts themselves, which is exactly what you need. You can change the size of the fonts and even render them onto a dark background. It's a brilliant way for looking through fonts you may wish to install. When you do want to install one, simply click on the Install button at the top right of the window.
Project Website
https://github.com/mmstick/fontfinder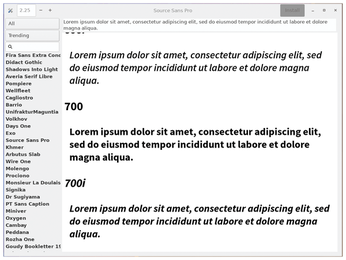 Real-time search and font previews from Google's font archive, with a one-click install for those you like.
comments powered by

Disqus
Visit Our Shop
Direct Download
Read full article as PDF: