FOSSPicks
WireGuard
We should all be routinely using a VPN. They remove your reliance on a local ISP and shuffle the data gathering potential of any single point to one that's slightly less predictable. They also give you complete control over where you want to be located and how you want your IP address to be presented. In addition, they're ideal for encrypting a connection across unsecured networks, such as a cafe's WiFi. But many of us don't use a VPN, and there are various good reasons for this. The first is that you never know if you can trust your VPN provider – they could be worse than your ISP. Even when they promise not to log your incoming and outgoing connections, the state of the security industry means that they may simply not be permitted to say whether they are or not. The second is that when you do want to run your own VPN, it's difficult to find both a simple and a secure solution.
An OpenSSH tunnel and a SOCKS proxy can do a good approximation of a VPN, but WireGuard is a far better solution. The best thing about WireGuard, and why it potentially beats OpenVPN, is that it's simple in both configuration and implementation. While its 4,500 lines of code have yet to be security audited, it's a manageable number to check yourself. Like SSH, WireGuard's security is based on public key encryption. Installation is through the generation of private keys held in restricted configuration files and the creation of a WireGuard interface. With the connection up and running, VPN access is fast and transparent, and if you've ever tried to install and maintain OpenVPN, it's much easier to run.
Project Website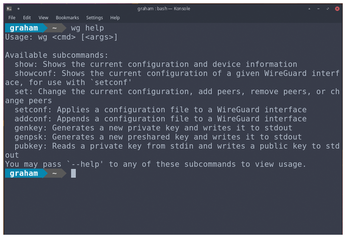 WireGuard has yet to have a security audit, but the project is small enough that it's easy to understand.
DJ software
Mixxx 2.1
While Linux and open source music software can't compete with some aspects of the proprietary realm, in many ways it's more interesting because there's a real experimental bent to the way many open source tools are developed – maybe because developers don't need to worry about paying customers. The excellent people behind monome, for example, have announced a wonderful (and expensive) silver box for generating, processing, and controlling music and audio. But because it's built around a Raspberry Pi and Lua scripts running on SuperCollider, we can all get involved without the investment. Similarly, the developer behind the Organelle hardware platform has released Orac, an open source modular instrument hosting environment that can be used on a Raspberry Pi to create complex audio chains, all without a screen or proper computer in sight.
So, while we don't have all of the commercial hardware effects-emulating plugins or the industry-standard digital audio software, we do have some exceptional music projects for when we want to flex our creative muscles. One of these is Mixxx, a brilliant tool for any budding or even performing open source DJ, podcaster, or local radio producer. Version 2.1 has been two years in the making. It essentially replaces the turntables with two virtual "decks" into which you load your music from a library. In fact, this being the realm of virtual turntables, it only takes a few clicks to turn those two decks into four, all without selling your car or taking out a loan. But it's not quite all virtual either. You can use special timecode records on a real turntable that allow you to control the digital playback, complete with scratching sounds, just like a real '80s DJ.
Rather than buying and storing your precious collection, however, you simply drag and drop music into the turntable area of the display. Multicolored waveforms are rendered into both the overview of what's playing and the audio loaded into each cue deck. You can even use beat detection, shown as vertical lines in the waveforms, to sync a cued track against the track that's playing. It's a relatively crude effect when there's a large tempo mismatch, but it works perfectly when two tracks have similar and clearly defined rhythms.
Effects are a big part of the playback chain. The Moog filter (unlikely to be officially endorsed) sounds sublime and is perfect for sweeping through one track before dropping into a crunchy beat on the second. There's EQ, a Bitcrusher, delay, and panning effects, many of which are new for v2.1 and all now syncing with the beat, obviating the need for external equipment or proprietary effects. For an open source application, it sounds fantastic and could easily be used professionally. For those DJs that like to interact or shout at their audience, you can see the live microphone input and even use servers like Icecast to broadcast on the Internet. This new version now scales on high-resolution displays, lets you resize the waveforms for extra clarity, adds new sampler configurations for effects and extra loops, and feels amazing. This is one of those rare breeds of open source applications: one that's as good or better than the proprietary competition, as well as creative, inclusive, and capable of genuinely professional results.
Project Website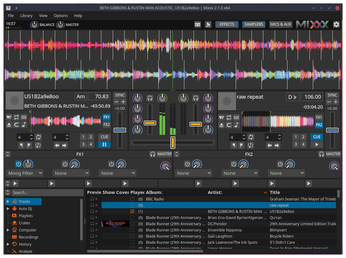 Dance the night away using nothing but open source and your own music collection.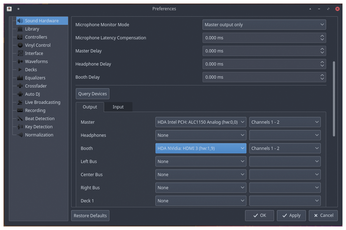 Combine real hardware and controllers with great sound input and output configuration.
comments powered by

Disqus
Visit Our Shop
Direct Download
Read full article as PDF: