Using ARP for Network Recon
Network Sleuth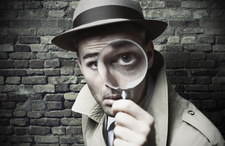 When it comes to network recon, arp-scan allows you to collect device intel quickly and stealthily.
The most obvious thing system administrators and hackers have in common is the need for network reconnaissance (recon). In both cases, such recon needs to be carried out as quickly and with as little impact to users as possible. One such recon technique involves finding every network-connected device on a subnet. You might think that this is an easy task, but it isn't. The first tool everyone thinks of is ping. However, ping can be, and usually is, blocked from use against important network-connected devices such as routers, firewalls, switches, intrusion detection appliances, intrusion prevention appliances, servers, and even workstations. Ping is not an effective tool for finding every network-connected device. Instead, an effective solution is to use the Address Resolution Protocol (ARP). ARP maps IP addresses to MAC (hardware) addresses.
ARP is effective in finding all network-connected devices, because you cannot block ARP. ARP must be allowed on a network for proper host-to-host communications. It is this feature (or flaw) that makes ARP a valuable reconnaissance tool. Fortunately, some clever programmers developed an easy-to-use, command-line tool, called ARP Scan (arp-scan), that makes quick work of this type of reconnaissance. The only limitation of using ARP in this manner is that its use is confined to a local subnet. In other words, you can scan all devices on the 192.168.1.0/24 subnet, but you cannot scan the 192.168.2.0/24 network unless you scan from one of those 192.168.2.xxx addresses. To put it simply: ARP is non-routable.
ARP Provides a Wealth of Information
Although arp-scan is a very versatile tool, my use of it is usually limited to the following five general usage scenarios:
[...]
Use Express-Checkout link below to read the full article (PDF).
comments powered by

Disqus
Visit Our Shop
Direct Download
Read full article as PDF: