Install and manage games with Lutris Play Time
Adding Games
If you want to add manually installed games to your collection, click on the plus icon in the upper left corner, select Import games, and make sure that you are in the Desktop games tab with the penguin icon. Lutris will shows you all the games it found here (Figure 8). To introduce Lutris to one of the games, check the box in front of the game name, then press Import games, and close the window.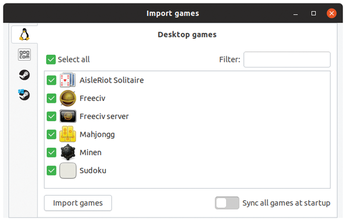 Figure 8: The games listed in the Desktop games window were probably installed via the system's software manager.
If you have previously installed games via the Steam client, switch to one of the tabs with the Steam icon instead. Select all the games installed with the Steam client that you want to manage with Lutris, and then click Import games.
To import games purchased from GOG, go to the GOG.com tab and click Connect your account. Log in to GOG.com as usual. It then takes a moment for Lutris to read your library. Then follow the steps described for the Steam games above. In the main window, you will now find all the games that you set up in the usual way using Install.
Sharing
If you play on multiple computers, you can synchronize your game list between Lutris installations via a free account at Lutris.net. Click on the Register button located top right on the website, and then follow the instructions on the screen. After doing this, log in via Sign-in.
Go to the Games tab, and click on a game to add it to your list (Add to my library). You can view the list by clicking on the Lutris logo top right and selecting Show library. In the main Lutris window, click on the Lutris logo top left and log in with Login. Now use the Lutris icon to synchronize the current status via Synchronize Library.
Conclusions
We tested Lutris v0.5.2, which was a little shaky on our Ubuntu system from time to time. Games did not always start at the first attempt. Nevertheless, Lutris helps you to get an overview of your game collection and also considerably simplifies the process of setting up games.
comments powered by

Disqus
Visit Our Shop
Direct Download
Read full article as PDF: