Smartphone-based two-factor authentication
Gnome Display Manager
If your console system uses a Gnome graphical user interface, you can also enable 2FA authentication at login time. To do this, you make the same changes previously discussed, but in a different file: /etc/pam.d/gdm-password (Listing 5). After a restart, Gnome will now prompt you for the second factor at login time.
Modifying /etc/pam.d/gdm-password
[...]
@include common-auth
# insert this line:
auth required pam_google_authenticator.so
[...]
Passwordless Login
Going back to logging in via SSH, many users prefer passwordless access via public key authentication. To do this, the user bob enters the command
ssh-keygen -t rsa -b 4096
on their client to generate a key pair (Figure 5).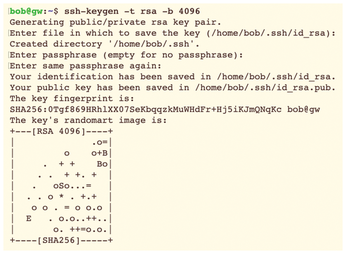 Figure 5: For a passwordless login, Bob generates a key pair on the client.
After that, the command
ssh-copy-id bob@influx
is sufficient, followed by the input of the current password. Bob can now log on to the influx server without entering a password.
Passwordless login can also be combined with 2FA. To do this, change the two configuration files on the server that I discussed previously. First open /etc/ssh/sshd_config and enter the following line at the end of the file:
AuthenticationMethods publickey,keyboard-interactive
Second, edit /etc/pam.d/sshd. Here you need to disable the line that reads @include common-auth by adding a hashtag (#) at the start of the line:
#@include common-auth
Then run the systemctl restart ssh command to restart the SSH service. When Bob now logs on to the server, he does not have to enter a password, but he does have to enter the one-time password from the smartphone app.
Conclusions
Security is not witchcraft. As shown here, even simple mechanisms such as 2FA can make logging on to a system far more secure. 2FA gives you additional protection against unwanted visitors, even if users choose weak passwords.
comments powered by

Disqus
Visit Our Shop
Direct Download
Read full article as PDF: