FOSSPicks
Howdy
We've been using passwords for a long time, and they're obviously a vitally important way to control who has access to your devices. But they're not the only way of authenticating access, and mobile devices in particular have been trailblazing new and more convenient ways to marshal system security. One of the best of these is using the front-facing camera for facial recognition, enabling access and payments without any user interaction, and this is what Howdy is – a facial recognition authentication system that can be introduced into your security layer. But first, a caveat: This is experimental software and cannot be relied upon in the same way you rely on your password or SSH key. To be useful, Howdy integrates with Linux Pluggable Authentication Modules (PAM) to replace your password for tasks like login and sudo, effectively granting root access to your system to anyone who looks like you. Or holds a photo of you up to the camera.
Fortunately, the complexity of integrating Howdy into your system is handled by the installer, and there are packages for many of the most common Linux distributions. After which you need to edit a configuration file to at least set the path to the digital video device (webcam) you wish to use. With that done, Howdy needs to be run from the command line to first add a face model for a user. This can be done with the howdy add command, and you'll need to briefly look at your webcam while your face, or whatever the camera is looking at, is algorithmerized (our word). And that's all there is to it. Wherever you attempt to perform an authentication action, your camera will briefly flicker into life while Howdy attempts to recognize you. Success means no further interaction is necessary, while failure will simply drop you back at whatever authentication method you used before. It already works remarkably well. While it might not save time typing a password, it definitely helps you to keep your concentration without having to context shift when remembering a password.
Project Website
https://github.com/Boltgolt/howdy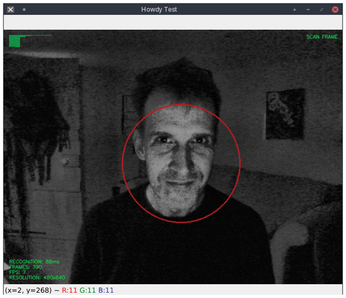 Interactions with Howdy are mostly transparent, but there is an excellent test mode that will show you the camera view and processing overhead.
Photo processing
Filmulator
It doesn't seem so long ago that if you were into photography, you needed to process the RAW image files from your camera using a different operating system, or perhaps Wine. But we now have a glut of command-line and desktop options, including digiKam and the all-conquering Darktable and RawTherapee. The last two in particular are more than capable of professional results, and there are many professional photographers who have successfully forgone Adobe's Creative Cloud subscription with its access to Lightroom in preference for either of these. But we also have Filmulator, a RAW photo-processing application we last looked at several years ago, and it has grown to fill a significant niche – photo processing without requiring encyclopedic knowledge of hundreds of parameters.
Filmulator aims for simplicity rather than maximum control. After you've imported your photo collection, you typically have access to around 12 parameters for fine-tuning your images. This is a huge contrast to the many modules you can access in Darktable, for instance, each with their own sets of parameters and presets. Like Darktable, though, the view is dominated by the image preview and the settings pane on the right, complete with a histogram showing the exposure levels for red, green, and blue hues. From this point you can only change vital image components such as exposure compensation, highlights, and temperature. Filmulator will also carefully adjust parameters in the background as it attempts to simulate film development. In particular, the dynamic range is reduced a little to bring out more details, bright regions are oversaturated, and their surroundings are made a little darker to help local contrast. It can feel like the best kind of HDR, but only from a single source. The results are excellent and much easier to produce than with other applications. It's an ideal application to recommend to someone who doesn't want to read a book on theory to get good results.
Project Website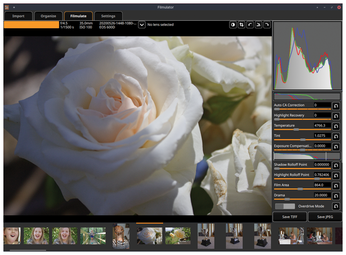 If you enjoy processing RAW images files, but not the hundreds of parameters that typically need to be tweaked, try Filmulator.
comments powered by

Disqus
Visit Our Shop
Direct Download
Read full article as PDF: