Graham searches for the best new free software
Animation Software
Synfig Studio 1.2.0
There have been some significant updates to some significant projects recently, and the release of Synfig Studio 1.2 is one of those. Synfig is an amazing vector graphics editor with a focus on cartoon-like images, that's also an animation tool that can turn those images into fully fledged cartoons. It's brilliant. And complicated. And requires not only proficiency with the application itself but a huge dose of talent, too. Luckily, lots of its users seem to have met these requirements, and many of the results I've seen are easily worth the effort. That all this comes from a piece of open source software is even more amazing, especially when compared with spending money on commercial alternatives.
This version is the result of 16 months' work and comes off the back of a modest crowdfunding campaign that was completed in the middle of 2014. Training courses and a Patreon page have also helped with development, and the main improvement for this release is a completely rewritten rendering engine. The main problem with Synfig has always been its performance. This is because those vectors preserve the original resolution and need to be maintained even in very complex scenes and animations – they're the reason why the output is always so perfectly crisp. The new rendering engine is noticeably faster; it's now multithreaded and less memory demanding. The other major feature is integration with Papagayo lip sync, a tool designed to help line up mouth shapes with the recorded sound of the actors within the animation. Of course, this may cause some anime titles to lose a bit of their crudely translated charm, but overall it's going to help Synfig and its users create much more professional results.
Project Website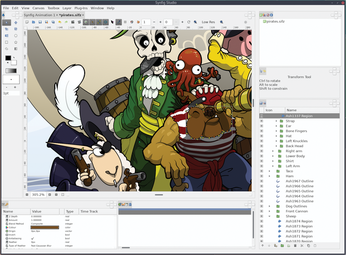 Conquer YouTube with your own cleverly cynical parodies of modern politics.
Web Browser
comments powered by

Disqus
Visit Our Shop
Direct Download
Read full article as PDF: