FOSSPicks
Riot.im
The latest wave of government attacks on privacy have made the issue of security more pressing, even for people not used to worrying about how their data is stored. As great as the promises are that WhatsApp and Telegram are peer-to-peer encrypted (although not by default), they are not enough. This may be why open source social networking is suddenly gaining momentum. The excellent Twitter-like, Mastodon, has been inundated with new accounts, with the main server even closing to new requests, and the open protocol, Matrix, finally seems to have come of age.
Matrix is both a protocol and a non-profit initiative to build both a federated and a persistent communication platform. Because the data is federated across many open source servers and you can easily run your own, there's no single point of failure and authority with complete control. This openness has led to multiple server implementations, as well as services bridges that link other networks such as IRC, Google Hangouts, SMS, Twitter, Telegram, and even Minecraft, into the Matrix ecosystem. This diversity is equally apparent in the clients that are available, and the most comprehensive is the Riot messenger. Through a browser, Riot feels much like Facebook or the defunct Diaspora. You can join public groups, create private groups (with their own encryption keys), chat with people and paste media such as photos and YouTube links. Riot handles all of this quickly and feels just like a modern communication platform should. Fundamentally, there are equally mature iOS and Android apps, the latter installable from FDroid, and these feel equally modern. This is important if we're going to convince our friends and family to switch. As with Linux versus proprietary operating systems in the early 1990s, open source social networking may have found its calling.
Project Website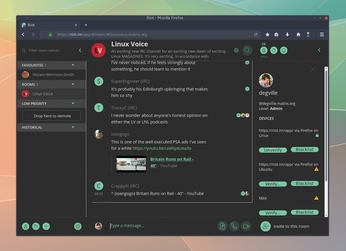 With Matrix and Riot, you can even bridge to other messaging platforms such as IRC (thanks, ioangogo!).
Curses Synthesizer
Cursynth
This is another late discovery, and one that hasn't been updated for a couple of years. But it's so impressive, it's worth the coverage in the hope it inspires renewed development from someone. Cursynth is a synthesizer that you run and operate from the command line. But unlike some of the other sound generators you can run from the command line, Cursynth sounds and looks absolutely fantastic, and its choice of UI doesn't inhibit you from accessing some complex editing functions. In fact, thanks to clever use of Curses, the UI could almost be a retro-inspired skin pulled across a VST or Audio Unit instrument. This is perhaps not surprising when you consider its developer – Matt Tytel – is also responsible for my favorite open source software synthesizer, Helm.
Cursynth is a precursor to Helm in many ways and features a similar analog-style sound. It has a simple classic design that belies the quality and breadth of its output. There are two oscillators for sound generation, a characterful low pass or high pass filter, mono or polyphonic options, and two envelopes. There's even a delay effect. But, most impressively, there's a modulation matrix that allows you to modulate a destination from a source with a varying amount of scale. This is an advanced feature that Helm also includes, and even though you're navigating the UI with the cursor keys, it's still easy to set up a source and destination, and because everything can be played from your QWERTY keyboard, as well as MIDI, it's immediate and responsive. From MIDI, you can also remap controllers to the various on-screen controls, so you don't have to cursor around. That does slightly diminish the fun of playing a synth on the command line, however.
Project Website
https://github.com/mtytel/cursynth
You can now play a remote synthesizer through an SSH terminal.
comments powered by

Disqus
Visit Our Shop
Direct Download
Read full article as PDF: