Issue #269 / Apr 2023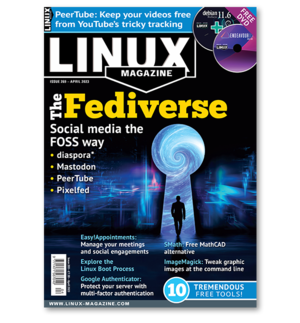 Approximate on sale dates:
UK/Europe: Mar 10
USA/Canada: Apr 14
Australia: May 26
Highlights:
Social media tools connect the world, bringing us the latest news and commentary from politicians, movie stars, community leaders, and remote friends. But the tracking and data mining of the commercial social media platforms has left many users searching for a better option. This month we dive down into the alternative universe for social media users: the Fediverse.
Identity Matters
The company behind Facebook just announced a new premium subscription model, where you pay for your Facebook account and the payment includes some add-on services that you don't currently receive.
EndeavourOS Cassini 22.12 and Debian 11.6 "bullseye"
In the news: KDE Plasma 5.27; SparkyLinux 6.6; Escuelas Linux 8.0; LibreOffice 7.5 Loaded with New Features and Improvements; The Next Major Release of Elementary OS; KDE Plasma 5.27 Beta; Netrunner OS 23; New Linux Distribution Built for Gamers; and System76 Beefs Up Popular Pangolin Laptop.
Chronicler Zack Brown reports on the little links that bring us closer within the Linux kernel community.
A return to in-person attendance at FOSDEM 2023
After two years online, crowds of FLOSS supporters returned to Brussels in early February for FOSDEM 2023. Reminiscent of a class reunion, the FOSDEM keynote program was jam packed with goodies.
Introduction to the Fediverse
Do you have to you give up your privacy to enjoy access to social media? The makers of the Fediverse say no.
Stay connected with diaspora*
You don't need Facebook to keep up with your friends online. With diaspora*, you get a similar experience without the spying.
A deep dive into Mastodon
Get started with free microblogging, interact with others who share you interests, and even help expand the Fediverse with your own Mastodon instance.
Getting started with PeerTube
PeerTube, the Fediverse's video platform, offers a decentralized, open source way to watch videos and live stream your own content. We'll show you how to get started and even set up your own instance.
A decentralized photo sharing platform
Pixelfed offers an interesting alternative to centralized, algorithm-driven, commercial photo sharing services.
A customizable distro with better support
EuroLinux offers enterprise class software with support from real engineers for a fair price. Bruce talks to the developers behind this RHEL-based distribution.
Get hiking suggestions from your recorded tours
When Mike Schilli is faced with the task of choosing a hiking tour from his collection of city trails, he turns to a DIY program trained to make useful suggestions.
IN-DEPTH: toot
Using Mastodon from the command line
If you are looking for a Twitter alternative, toot lets you interact with Mastodon from the command line.
An open source appointment manager
If you have a business that requires customers to make an appointment in advance for services, letting them request the appointment via Easy!Appointments can free up your phone line.
Integrating Google Authenticator with SSH logins
The Google Authenticator PAM module allows you to use time-based Google Authenticator passwords with various Linux services, including SSH.
Free MathCAD alternative for Linux
Present complex equations with intermediate steps, graphics, plots, and results in SMath.
Four Raspberry Pi advertisingand tracking blockers
A Raspberry Pi with the right software filters out annoying ads and nasty trackers for end devices on your local network.
This month in Linux Voice.
A path to Linux
Linux can be a great new option for users from Windows XP owners to students with a range of interests.
Understanding the Linux startup process
If you want to troubleshoot startup issues, you need a clear understanding of how Linux boots.
Graham has been playing with the source code to the amazing Mutable Instruments Eurorack modules. The company is closing, but every firmware to every product is open source. Merci, Émilie Gillet.
Professional graphics and photo editing at the command line
The free ImageMagick graphics toolbox brings the feature set of a full-blown image processor to the command line.

Issue 269/2023
Buy this issue as a PDF
Digital Issue: Price $12.99

(incl. VAT)