Igel UDC: Desktop converter for Thin Clients and Old PCs
Sep 04, 2009
Thin client specialist Igel Technology offers a new installation method: its Universal Desktop Converter (UDC) is a USB stick that installs a homegrown Linux version on thin clients of various manufacturers as well as old PCs.
The Igel UDC can convert PCs with x86-compatible processors, minimum 512 MBytes RAM and 1 GByte HDD (IDE or SATA) or Flash memory into remotely administered Linux thin clients. Igel promises the same for certain thin client hardware from Neoware and Dell as well as the previous generation from Igel, as provided in their specifications.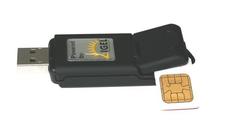 The Universal Desktop Converter (UDC) from Igel installs its Linux thin client firmware on thin client hardware and unused old PCs. The pictured SIM card, which is inserted into the USB token device, provides the UDC licensing management.
The USB installation device itself starts at around $120. The thin client operating system Igel Flash Linux, now in verion 4.0.1, comes in three versions, entry ($50), standard ($83) and advanced ($118, all prices approximate at current Euro conversions). Igel provides a comparison table. The associated management software is available at no extra cost from the first user license. Further details on the product are on the Igel website.
comments powered by

Disqus