Issue #51 / Feb 2005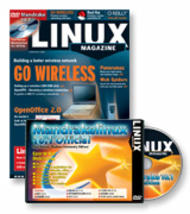 DVD: Mandrakelinux 10.1 Official
My friends at the Biodiversity Research Center (http://specify software.org/In formatics) are experts in modeling the sudden changes that occur when an ecosystem is disrupted by the arrival of a new foreign species. I'm sure they don't have a plan for modeling the Linux ecosystem, but if they did, they would also have scientific way of telling us the times they-are-a-changin'. As you probably know, the foreign species that appeared recently in the Linux ecosystem is Novell. High-tech magazines are full of commentaries describing the possible impact Novell might have on the Linux industry, but it is starting to look like the area where Novell presents the greatest mismatch for the indigenous Linux companies is in the game of brand promotion.
Legal Case Management Software to Aid NGOs Bulletin Boards' Revival City Says "No" but Schools Opt for Linux Tech Ca......
Wireless Networking in Linux
When you're going wireless,it pays to be careful. Get the right hardware,and make sure your network is as secure as you think it is.
A Guide to the Wireless Standards
The IEEE 802.11 standards are at the center of the wireless revolution. The wireless alphabet starts with 802.11a and extends to 802.11n. Linux Magazine helps you get your wireless spelling right.
Testing USB WLAN Adapters
Electronic gadgets keep on getting smaller,and WLAN adapters are no exception.The first USB WLAN sticks hit the stores last year.This article tells you what to look for and how to get your USB WLAN device to work.
Safe WLAN Networking with an Encrypted OpenVPN Tunnel
Wireless networks are practical but dangerous at the same time.WEP encryption is unlikely to stop an attacker. But help is at hand in the form of add-on security measures such as an encrypted OpenVPN tunnel.
Outsource: Competing in the Global Productivity Race Spam Kings Pirates of the Digital Millennium...
A Preview of OpenOffice 2.0
At first glance,OpenOffice 2.0 might scare current users with a GUI that closely resembles Microsoft's competitor product. But on closer inspection, the beast turns out to be a beauty.
Linux Trouble Ticket Software
If your help line serves outside users, keeping track of support requests can mean the difference between a repeat customer and a lost customer. If the line serves inside employees, an efficient response means better productivity. Fortunately,several Linux-based applications offer help for your help desk or hotline.
Booting Linux from a USB Memory Stick
Everyone knows you can boot Linux from a live CD,but have you thought about putting Linux on a compact and highly portable USB memory stick?
Visit Our Shop
Direct Download
Tag Cloud