Issue #51 / Feb 2005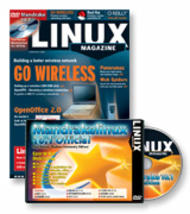 DVD: Mandrakelinux 10.1 Official
Kontact with IMAP-based Calendar and Address Management
Kontact gives you email,address books,and calendaring in a neat package. And IMAP supportmeans you can access this data from anywhere on the network.
Perfect Panoramas with Hugin, Enblend, and Autopano-SIFT
You can create a pleasing image by aligning multiple landscapes to form a panorama. But the alignment can be tricky, especially if the individual photos do not match.Tools like Hugin,Enblend,and Autopano-SIFT help you create that perfect seamless panorama.
Insider Tips:F ind and Locate
Modern computers with their multiple Gigabyte hard disks store thousands of files. A lost file can cause a lot of work,and it can also pose a security risk. Fortunately,Linux has some versatile tools for finding those "lost files."
Templates and PDFs in Scribus
In this final part of our three-part series [1][2],we'll put the finishing touches on our Linux newspaper. You'll learn how to generate a PDF,and you'll find out what a real pre-press professional thinks about our project.
The Sysadmins Daily Grind: OpenNTPD
On vacation we may be happy just to check the position of the sun,but computers need a more accurate measure of time. Luckily, there are atomic clocks that can receive time signals by radio and off the Internet.
Customizing Red Hat Installation
If you're one of those users who just wants to slip the CD into the drive and answer the prompts,your are probably content with a Red Hat installation. But if you are someone who wants it your own way,you might be looking for a better fit.We'll show you how to get it.
Building a Web Spider with Ruby
Ruby is a very elegant language,and it's harmonious – the parts work together effectively. Ruby also significantly reduces a developer's burden. We'll show you how to use Ruby to build a quick and simple web spider application.
A Perl script for Automatically Collecting News Headlines
Instead of visiting news sites periodically to pick up the latest reports, most people prefer to let a news aggregator do the job.The aggregator automatically draws your attention to incoming news. If a website does not have an RSS feed,a new Perl module simplifies the task of programming an RSS feed for private use.
Ktools: Superkaramba
SuperKaramba is always a pretty sight,with a collection of themes that
allow users to give their desktops that personal touch.
3D Tools for the Desktop
Command line programs do what they are supposed to do but in a very
unspectacular way. If you prefer a more sophisticated look and feel,you'll find
a 3D alternative for almost every task.This article examines some of the most
interesting 3D tools for the desktop.
Visit Our Shop
Direct Download
Tag Cloud