Issue #53 / Apr 2005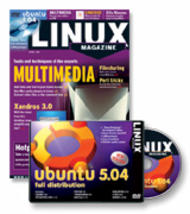 DVD: Ubuntu 5.04 'Hoary Hedgehog'
File sharing with MLDonkey and KMLDonkey
The multi-network MLDonkey client gives users access to all the major file sharing networks. We'll show you how to set up MLDonkey and how you can control the MLDonkey client with a KDE front end called KMLDonkey.
Managing databases on KDE
Knoda is a user-friendly KDE program that makes database management an intuitive experience. In Part 2 of our workshop, we investigate how to create forms and print reports with Knoda.
The Sysadmin's Daily Grind: Rsnapshot
The principle behind Rsnapshot is nothing new: use Rsync and SSH to back up files to another computer. What sets Rsnapshot apart is its simple setup and its rich collection of features.
MP3 and MPEG-4 with the Darwin Streaming Server
Apple's Darwin Streaming Server is a free version of the commercial Quicktime server. It can handle the seminal MP3 and MPEG-4 formats, and it has a web front-end.
Insider Tips: Identd with Linux-based Servers
In last month's issue of Admin Workshop, we introduced tools that help admins get services up and running. This month, we will show how you can use the Ident protocol to associate a user name with a TCP connection.
Creating Basic Macros in OpenOffice
The OpenOffice productivity suite can use a variety of scripts and macros to automate recurring tasks. The easiest approach is to use the integrated Basic dialect. This article helps you get started with this surprisingly sophisticated programming language.
An Extensible Viewer for your Personal Finances
A helpful Perl script gives you an immediate overview of your financial status, adding the balances of multiple accounts and share depots. It even allows users to add their own plugins.
Learning Vocabulary with KVocTrain
Modern language-teaching may focus on context, but
without a good range of basic words, you'll be lost when
you try the language outside the classroom. KVocTrain
helps you build your foreign vocabulary.
deskTOPia: The hsetroot and Esetroot Background Tools
Users who work long hours on a
desktop computer will appreciate
something eye-catching to relieve
the monotony. The hsetroot and
Esetroot tools offer you more than
an ordinary desktop.
Exploring the Gentoo File Manager
KDE users choose Konqueror, Gnomers use Nautilus, and commandline
fans extol the virtues of Midnight Commander. Gentoo gives you
the best of all these worlds – a desktop independent file manager.
Visit Our Shop
Direct Download
Tag Cloud