Issue #53 / Apr 2005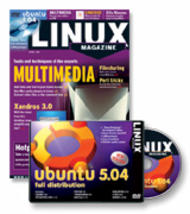 DVD: Ubuntu 5.04 'Hoary Hedgehog'
Re-animating classic games with ScummVM
The SCUMM engine is the basis of almost all the classic
adventure games by Lukasfilm Games/LukasArts.
Now fans can launch these game on Linux thanks to
ScummVM.
Using tr and dos2unix
The tr tool is a real wizard. This simple command lets you replace strings in text files. Whether you are replacing letters or just removing whitespace, you will be amazed at tr's versatility.
Free Software and its Makers
Free software covers such a diverse range of utilities, applications, and other assorted projects that it can be hard to find the perfect tool. We pick the best of the bunch. This month's column covers file management with Xfe, IRC, the Sync2cd backup tool, and email printing with Muttprint.
The Monthly GNU Column
This column looks into projects and current affairs in the world of free software from the perspective of the GNU Project and the FSF. In this issue, we focus on AmavisdNew, a new daemon that operates as a spam filter.
Visit Our Shop
Direct Download
Tag Cloud