Issue #56 / Jul 2005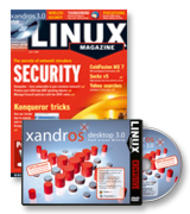 DVD: Xandros Desktop 3.0
Dear Linux Magazine Reader, If you were tuned to the blogs recently, you may have noticed the immortals of open sour......
OPEN SOURCE DESKTOPS IN JAPANESE SCHOOLS CAMPUS PARTY 2005 PAYING INCOME TAX ON-LINE CROSSING FEMINISM AND FREE SOFT......
FIREFOX...
Knowing the ways of the enemy
Most users have become so accustomed to networking that they never stop to ask if anyone may be listening. We all k......
Attacks on wireless clients
Security experts are always concerned with WLAN access points, but they sometimes forget that the client is also open to attack. Public hotspots make it quite easy for attackers to hijack connections, as the Hotspotter tool demonstrates.
ARP spoofing and poisoning
Any user on a LAN can sniff and manipulate local traffic. ARP spoofing and poisoning techniques give an attacker an easy way in.
SSPE: Managing security policies for multiple firewalls
The Simple Security Policy Editor (SSPE) helps you organize your network and keep track of security policies across multiple firewalls. You can reference a central policy to generate rulesets for packet filters and VPN gateways.
Linux Quick Fix Notebook The Art of Computer Virus Research and Defense Linux in a Windows World...
A look at Macromedia's new ColdFusion MX 7 Server for Linux
Macromedia's new ColdFusion MX 7 Server creates highly available and high performance web applications. We'll show you what is new and what is changed with the latest ColdFusion release.
Podcatching without an iPod
You don't need an iPod to participate in the recent phenomenon known as Podcatching. We'll show you how to receive and play back podcasts in Linux.
Visit Our Shop
Direct Download
Tag Cloud