Issue #58 / Sep 2005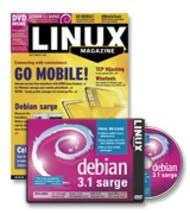 DVD: Debian GNU/Linux 3.1 r0a 'sarge'
Dear Linux Magazine Reader, Quiet waves of trepidation have rippled through the Linux community since Apple's very i......
NATIVE OPEN SOURCE SOFTWARE FOR CAMBODIA ONE MILLION LINUX LAPTOPS FOR BRAZILIAN PUPILS WITH LINUX, SOLAR AND PEDAL......
PHP REALPLAYER SUDO...
Practical Tools for the Traveler
The telecommunications industry has invested billions over the years in the global mobile phone network – an impres......
Mobile Internet access with GPRS
Permanent mobile Internet access might sound like a nightmare for some, but for others it is a dream come true. All you need is Linux and a fairly recent mobile phone.
Managing your mobile phone with Gammu and Wammu
The command line tool Gammu reads and modifies phone books, calendars or mobile phone settings . The GUI-based Wammu tool gives users a convenient front-end for some of the most critical functions.
COVER STORY: SCPM
Managing network configurations with Suse's SCPM
SCPM lets you switch your network configuration when your portable moves to a different network. Read on to learn more about deploying the SCPM profile manager with Suse Linux.
Don't Click on the Blue e! Optimizing Linux Performance MYSQL in a Nutshell...
Exploring the long-awaited Debian 3.1 sarge
Debian developers coded, talked, and postponed deadlines for 35 months until Debian 3.1, alias Sarge, finally saw the light of the Linux day. The list of new features is impressive, including a new installer and many state of the art technologies.
The HP Compaq NC4200 with Ubuntu Linux
Linux often requires several kernel patches, or even Windows drivers, to work properly on a portable computer. HP originally intended to market their NC4200 notebook with Ubuntu, so they went the extra mile to get the system working with Linux.
Visit Our Shop
Direct Download
Tag Cloud