Issue #61 / Dec 2005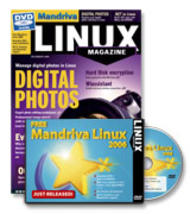 DVD: Mandriva Linux 2006
Building a database application using OOo Base
If you need a quick and easy solution, try building your own database application in OpenOffice.org 2.0.
Project management with Taskjuggler
Taskjuggler is a handy project management tool for large or small projects. We'll show you how to organize a simple remodeling job with Taskjuggler.
Wlassistant helps you attach to a WLAN
Laptop users who move among wireless networks need a simple and practical means for getting connected. A KDE tool titled Wlassistant helps you find the signal.
KNOW-HOW: LMMS
Making Music with Linux Multimedia Studio
Linux has truly started to compete with Windows and MacOS as a platform for professional sound applications. Linux Multimedia Studio (LMMS) is a Linux sound tool that packs a variety of impressive features into a neat bundle.
The Sysadmin's Daily Grind: Sarg
A busy proxy server is something that no self-respecting admin should leave to its own devices. The Squid logfile analyzer, dubbed Sarg by its author, helps you keep your Squid servers on track.
Insider Tips: The Unix filesystem tree
Unix systems organize files in a hierarchical filesystem tree. A system of naming conventions defined in the Filesystem Hierarchy Standard (FHS) helps admins find their way around.
Hard disk encryption with DM-Crypt, LUKS, and cryptsetup
If you're serious about keeping secrets, try hard disk encryption with DM-Crypt and LUKS.
comComparing the free .NET implementations Mono and DotGNU
The Open Source projects Mono and DotGNU open Microsoft's .NET platform to Linux developers. This article investigates how well-suited these alternative implementations are for building simple GUI applications.
A Perl toolbox for regression tests
With a test suite, you can fix bugs and add new features without ruining the existing codebase.
Quick searches and party fun with the Yammi music database
The compact Yammi [1] music database for KDE (Version 3.2 or newer) is a useful replacement for a jukebox.
Visit Our Shop
Direct Download
Tag Cloud