Issue #61 / Dec 2005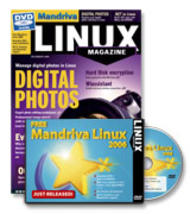 DVD: Mandriva Linux 2006
Trayer
Some applets deposit icons in the system tray of the KDE or Gnome task bar. If you don't use KDE or Gnome but you still want the system tray applets, check out Trayer.
The Evince document viewer
Evince is quickly becoming Gnome's standard viewer for PDF and other document formats.
gzip, bzip2 and tar
A short command is all it takes to pack your data or extract it from an archive.
LinuxWorld Expo UK 2005
The 2005 LinuxWorld UK Expo was another great success for the growing LinuxWorld franchise.
An up-to-date look at free software and its makers
Free software covers such a diverse range of utilities, applications, and other assorted projects that it can be hard to find the perfect tool. We pick the best of the bunch. This month we look at IPodder, FreeBSD 6, and SynCE.
Visit Our Shop
Direct Download
Tag Cloud