Issue #66 / May 2006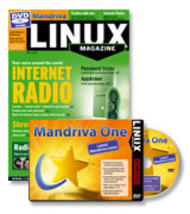 DVD: Mandriva One
Dear Linux Magazine Reader, If you think the open source community is less susceptible to market forces than the com......
INDIAN DEVELOPERS WANTED ANDALUSIA DROPS DEBIAN, EMBRACES UBUNTU SNOWBOARDING AND HACKING TYPO3 4.0...
Tuning in the world of Internet radio
Did you think the Internet was out of revolutions? With Internet radio, anyone can be a broadcaster. If you want to start broadcasting or podcasting, or even if you're just looking for the perfect station, check out this month's Internet Radio cover story.
Recording Podcasts with Audacity
Create your own podcasts with the free and easy Audacity sound editor.
Streaming audio with Icecast and MuSE
For live Internet radio, you need a streaming server. We'll show you how to get started with Icecast, an open source streaming alternative for Linux.
Favorite sites from the world of Internet radio
Take a tour of some favorite Internet radio sites from the experts at Linux New Media.
Creating a virtual radio station with Last.fm
Last.fm tracks your musical tastes and helps you find users with similar interests.
Winning Results with Google AdWords Just Say No To Microsoft MySQL Crash Course...
Exploring the Enlightenment 17 window manager
Enlightenment has a large community of fans who are patiently waiting for a new version. If you are brave enough to try out Development Release 17, you'll find an aesthetically pleasing and extremely flexible window manager.
Creating animated characters with Blender
Blender not only generates realistic single frames; it is also capable of capturing the natural movements of people and animals. We'll introduce you to some of Blender's animation features.
Visit Our Shop
Direct Download
Tag Cloud