Issue #67 / Jun 2006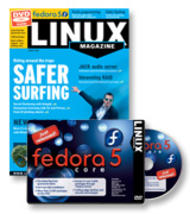 DVD: Fedora Core 5
The first LinuxWorld Conference & Expo ever in Australia
March 2006 saw the first LinuxWorld Conference & Expo ever in Australia. The event was held in perfect weather over three days in Sydney.
News from LinuxWorld Boston
LinuxWorld Boston experiments with a parallel conference and a new location.
Community Notes
It's that time of year again. Spring is in the air, the clocks are moving forward, and the first of the year's majo......
An up-to-date look at free software and its makers
Soundmural delivers sound to match an image, and the new Hacker Key delivers code to match the coder. We'll also look at AKFQuiz, Linux on the Ultrasparc T1, and the Debian GFDL controversy.
Visit Our Shop
Direct Download
Tag Cloud