Issue #71 / Oct 2006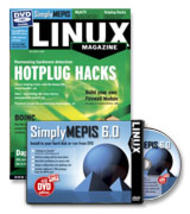 DVD: SimplyMEPIS 6.0
Dear Linux Magazine Reader, Something about the mood of LinuxWorld is different at every show. The booths and the te......
BHUTAN WITH NATIONAL DISTRIBUTION SCANDINAVIAN OPEN SOURCE PRIZES MAINLY KERNEL IN OTTAWA...
Extending the Linux hotplug system
Hotplugging is invisible and automatic – if you want it to be. But a close look at the Linux hotplug system reveals interesting opportunities for customization.
Extending hotplug on Debian, SLES 9, and RHAS 4
Debian hotplug is designed for little more than loading drivers and configuring devices. The collection of scripts discussed in this article helps Linux to respond when a network cable is plugged in or when a cellphone is in the vicinity. Read on for more on how to define custom hotplug events.
COVER STORY: Ivman
Building in hotplug with Ivman
Better knowledge of the Linux hotplug system opens the door to to innovation and automation. We'll show you a custom backup solution for laptop computers.
COVER STORY: Udev
Dynamic device management in Udev
After three years of hanging around on the sidelines, Udev has finally ousted the legacy Dev-FS system. We take a look under the hood at the Udev device management system inside your Linux system.
Defeating the Hacker Designing Interfaces...
Test driving Ubuntu's Dapper Drake
Is Ubuntu 6.06 Dapper Drake worthy of an update? That depends on what you are looking for. We took a tour of the latest Ubuntu.
Building distributed applications with BOINC
Grid computing lets little PCs work on big problems. You can use the grid system of the famous SETI@home project to build your own grid computing solutions.
Building a home media center with MythTV
MythTV and its extensive ecosystem of add-ons let you turn your Linux computer into a full-featured home media center.
Visit Our Shop
Direct Download
Tag Cloud