Issue #76 / Mar 2007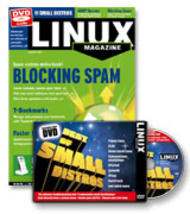 DVD: Best of Small Distros
Dear Linux Magazine Reader, A couple months ago, we heard the news that Oracle will produce a Red Hat-derived Linux......
LINUX.CONF.AU ATTRACTS WOMEN EUROPE STUDIES OPEN SOURCE SOFTWARE QUALITY RUSSIAN TEACHERS TO LEARN LINUX PROGRAMMING......
Cleaning House Sparse Maintainership Status of CREDITS Status of sysctl Support for Apple Motio......
Remote Backup Installation Woes ...
Facing down the masterminds of unsolicited Internet mail
Spammers charge real money for their dubious services, and hundreds of advertisers are willing to pay. We'll show you some innovative techniques for controlling and containing spam, including strategies for slowing down spam bots, keeping spammers from getting your address, and separating spam from legitimate email.
Fending off spam before it reaches your filter
Sometimes the best way to keep spam out of your mailbox is to keep the spammers from getting your address.
Using tarpits to trap spammers
A tarpit slows down spam by reducing the effectiveness of the spammer's weapons.
Comparing antispam appliances and services
Spam filters can help smooth the waves in your inbox, as long as they are reliable and don't have too many side effects. We'll show you what we found when we tested five antispam appliances and two service providers.
Intelligent filtering with Qmail, SpamAssassin, and Maildrop
We'll show you a custom solution for moving spam to a separate folder and adding new spam signatures to SpamAssassin.
Learning MySQL Linux Kernel in a Nutshell The Book of JavaScript, 2nd Edition...
Visit Our Shop
Direct Download
Tag Cloud