Issue #76 / Mar 2007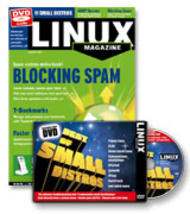 DVD: Best of Small Distros
Adobe's Flash Player 9 for Linux
Adobe's beta version of Flash Player 9 for Linux looks quite mature. Is it worth upgrading right now? This article looks into installing Flash Player 9 beta, and integrating a video camera and a microphone.
KNOW-HOW: GIMP
Improving digital images with the GNU Image Manipulation Program
GIMP is great for fixing digital images. We'll show you how to correct washed-out or under-exposed images and white balance.
Examining the algorithms of the diff utility
Diff finds the differences between two versions of a file. We'll show you how diff finds changes and matches in files without affecting a system's resources.
Klaus Knopper is the creator of Knoppix and co-founder of the LinuxTag expo. He currently works as a teacher, programmer, and consultant. If you have a configuration problem, or if you just want to learn more about how Linux works, send your questions to: klaus@linux-magazine. com
Configuring event-triggered commands with Incron
While cron doggedly keeps to a fixed schedule, Incron monitors directories and runs commands when changes occur.
Quick booting with Upstart, a replacement for the legacy Sys V Init
The slow Linux boot has troubled users for years. Now the Upstart project offers a fresh approach to the problem of booting Linux.
Monitoring LAN devices with Perl
They say darkness is the friend of thieves, but the Perl daemon in this month's column illuminates dastardly deeds, exposing hidden activities and alerting the admin when things seem to be going awry.
The Rockbox firmware alternative for the iPod and other MP3 players
Rockbox firmware brings new features to the iPod and a few other MP3 players. We'll show you how to install Rockbox on an iPod, and with a little tinkering, you'll have the ability to play Ogg Vorbis files, customize the user interface, and add plug-ins.
FTP and NcFTP
FTP and NcFTP are both FTP clients for the command line. While FTP only has basic file transfer functionality, NcFTP has a whole bunch of additional features.
Community Notes
Jon Masters looks at a few of the defining moments of 2006 and rounds up the latest activities from the many different Linux User Groups around the world.
Visit Our Shop
Direct Download
Tag Cloud