Issue #77 / Apr 2007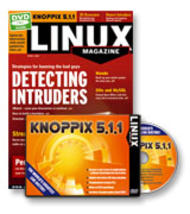 DVD: Knoppix 5.1.1
Exploring your directories with a 3D file browser
Moving a flat filesystem hierarchy to the third dimension makes navigating a directory tree child's play.
Streaming servers and codecs
If you want to use Linux to stream video over the Internet, you might have to fight your way through a jungle of codec alphabets. The available software is anything but intuitive. This article will help you pick the options that best fit your needs.
Tools and techniques for publishing your videos on the web
We'll show you how to convert your videos to FLV format and play them from your website with FlowPlayer.
Enhance less than perfect images with the GIMP
GIMP is a powerful tool for improving digital photos. We'll explain how to crop pictures, simulate depth of field, and correct perspective.
Graph visualization with Graphviz
Using drawing tools to manually create graphs and diagrams can be a slow and convoluted process. The Graphviz toolbox offers a faster way. Based on a short text with the information for the graph, Graphviz quickly generates a neat drawing.
Klaus Knopper is the creator of Knoppix and co-founder of the LinuxTag expo. He currently works as a teacher, programmer, and consultant. If you have a configuration problem, or if you just want to learn more about how Linux works, send your questions to: klaus@linux-magazine. com
The Sysadmin's Daily Grind: smap
On a trip to Berlin, Charly discovers that the nmap port scanner has a new cousin who enjoys spying on phones – smap scans networks for VoIP devices.
System and data backups
Mondo shows that backups don't need to be time consuming or difficult. This amazingly simple tool backs up complete hard disks or individual directories.
Do-it-yourself, Perl-controlled irrigation system
In this month's Perl column, we will introduce a system to water your plants while you are away from home. With a little help from Perl, a friendly, Linux-based irrigation system waters your plants twice a day.
Removing spam mail with CRM114 and KMail
The CRM114 filter program, which is integrated with KMail, helps fight spam in POP3 and IMAP mailboxes. Because this flexible filter does not require server-side changes, it is a good choice for users without root access to their mail servers.
Visit Our Shop
Direct Download
Tag Cloud