Issue #77 / Apr 2007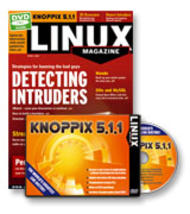 DVD: Knoppix 5.1.1
Firefly Music Server
The Firefly Media Server makes streaming music and Internet radio onto your home network for iTunes or Banshee clients as easy as pie.
Creating a notebook application with OpenOffice and MySQL
You don't need to be an expert to hook up OpenOffice Writer with a MySQL database.
Editing PDF documents with Cabaret Stage
Linux has had the ability to display PDF documents for many years, but it lacked an editing tool until now: enter Cabaret Stage.
Data management in the Shell
Do some serious spring cleaning and reorganize your data. The right commands can help you to keep on top of your file and directory management.
The 23rd Chaos Communication Congress in Berlin, Germany
The 23rd annual Chaos Computer Club Congress offered a fresh perspective on topics such as RFID technology and cyber-crime laws.
An up-to-date look at free software and its makers
Inthis month's Projects on the Move, we look at Squirrel SQL, a full-featured easy-to-use GUI-based database management tool. We also have updates on Debian: frozen Etch, the upcoming DebConf 7, and spring cleaning
on the Debian Desktop.
Community Notes
LUGS debate tax time, free BBC content online, hosting Linux swap on LVM, and more.
Visit Our Shop
Direct Download
Tag Cloud