Issue #83 / Oct 2007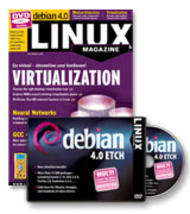 Information Visualization: Design for Interaction Service Oriented Architecture for Dummies Security Metrics...
GNU Compiler Collection 4.2
The latest GNU compiler provides better support for parallel programming, and GCC also rolls out some new optimization features. We took GCC 4.2 for a test drive.
Detecting movements with Motion
The motion detector software, Motion, monitors the video signal from one or multiple cameras and is able to detect whether a significant part of the picture has changed, record and track movement, or launch arbitrary external commands to trigger other actions.
Saving power with PowerTOP
Intel's PowerTOP analysis tool helps optimize power usage and shows you the power guzzlers hiding out on your operating system.
Wikified approach to the spreadsheet
wikiCalc is a unique tool that offers a combination of spreadsheet functionality and wiki features. This may sound like a strange pairing, but wikiCalc provides a refreshingly new approach to the spreadsheet concept.
Klaus Knopper is the creator of Knoppix and co-founder of the LinuxTag expo. He currently works as a teacher, programmer, and consultant. If you have a configuration problem, or if you just want to learn more about how Linux works, send your questions to: klaus@linux-magazine. com
The Sys admin's daily grind: Nttcp
Some weather forecasts give you the temperature and a windchill adjustment, and a similar forecast for bandwidth would be helpful. If you feel the bandwidth is too low – and it always is – you need some kind of measuring instrument to reveal the truth.
Understanding load averages and stretch factors
What is the real meaning of those little "load average" values in the output of shell commands like procinfo and uptime, and what can you do with these numbers?
Programming neural networks with libfann
3, 4, 8, 11… ? A neural network can complete this series without knowledge of the underlying algorithm – by a kind of virtual gut feeling. We'll show you how neural networks solve problems by simulating the behavior of a human brain.
Perl uses a multimeter to report power consumption
Today's digital multimeters can do more than measure current and voltage. Multimeters also measure capacity and temperature. An inexpensive multimeter can talk to your PC via the serial port, and simple Perl scripts let you read and visualize data in neat charts.
Visit Our Shop
Direct Download
Tag Cloud